The Ladies' College embraced the visit by the Earl of Wessex KG, GCVO on Thursday 22nd September 2016. His visit to Guernsey was part of the Duke of Edinburgh's Award Diamond Anniversary which takes place this year.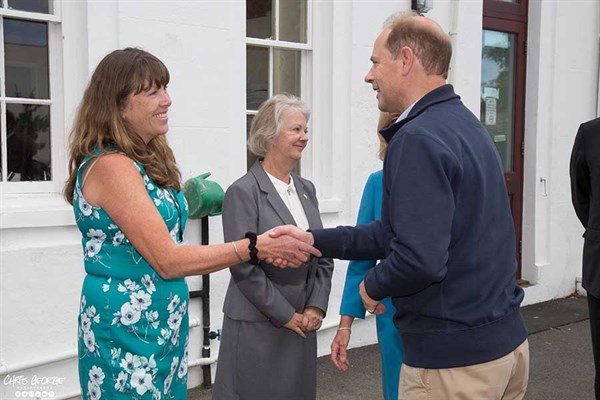 After a small private lunch with Sir Richard Collas, Bailiff, Sir Ian and Lady Kathryn Corder, the Lieutenant Governor and his wife, The President of Policy and Resources, Deputy Gavin St. Pier and his wife, Jane, Mrs Kate Richards, Chair of Governors at The Ladies' College, Dame Mary Perkins, Patron of The Ladies' College fund raising and the Principal, Mrs Ashley Clancy, the Earl of Wessex was introduced to Ms. Louise Mitchinson, The Ladies' College Duke of Edinburgh's Award Co-ordinator and Mr Christian Scott, South -East Regional Director of The Duke of Edinburgh's Award. Louise then escorted His Royal Highness who was welcomed by everyone in College who lined the route and he stopped and spoke to so many people. He visited Bronze Duke of Edinburgh's Award students Sophie Brown, Louise Madden, Imogen Mitchenall, Millie Wenlock, Ingrid Morley, Cecile Le Clerc, Alex Oliver, Maeve Tully, Abigail Tardivel and Rosa Bonner-Morgan cooking outside of tents and tried some of their food, spoke with Silver and Gold students Daisy Avery-Wright, Amy David, Mary Mooney, Olivia Van de Velde, Ella Morley, Morgan James, Minnie Singh, Jade Queripel, Sophie de Garis, Olivia Atkinson, Hannah Belton, Daisy de Garis, Aimee Bran, Sophie de la Mare, Orla Rabey, Katherine Bushell, Victoria Mann, Amy Sharpe, Rebecca Toll, Eloise Tanguy, Jasmin Norman, Lucy Pratt, Danielle Parr, and Abigail Galpin, who had swam or were cycling or rowing, as part of The Ladies' College Diamond Challenge. All together swimmers, bikers and rowers completed just over 110km in 60 minutes. That is from Jerbourg to Mont Saint Michel in France! Quite impressive! He then chose to ride, rather than row, the last minute of the Diamond Challenge and everyone enjoyed the countdown to zero and applauded their appreciation. Earlier in the day three students, Katie Connolly, Maisie Bisson and Bethany Ferrycycled around the island as part of an island wide schools' challenge, completing The Ladies' College leg with students from Elizabeth College between Bordaeux and Grand Roques.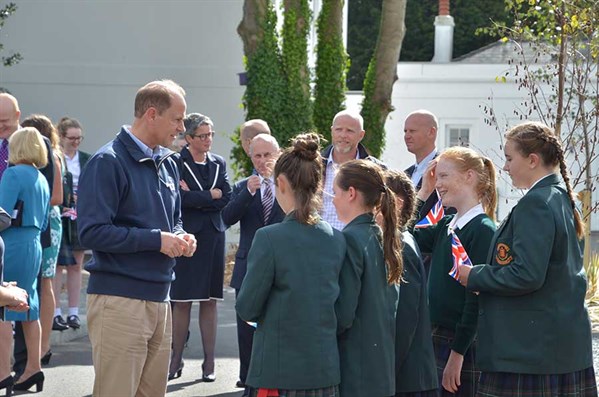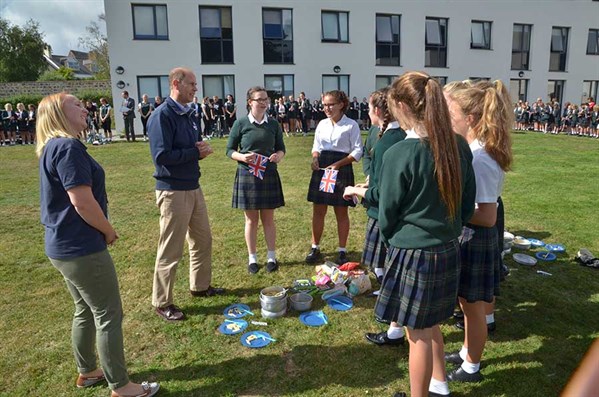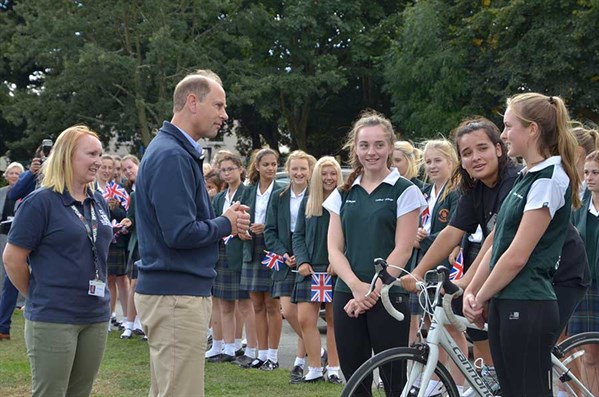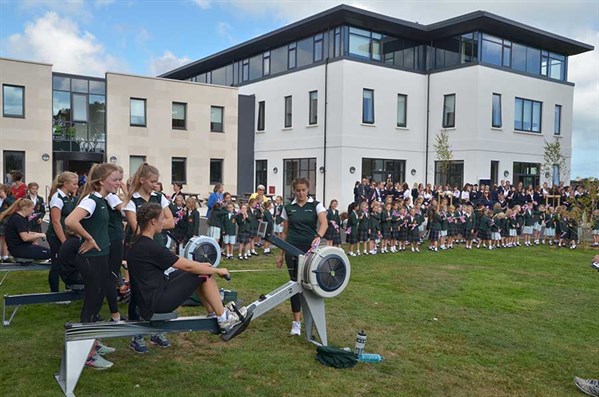 Prince Edward then met Head Girl, Chloe Curtis, who pointed out the foundation stone laid by his grandmother, before proceeding into the College Hall to watch skilful gymnastics by Megan Wyatt-Nicolle, Grace Davison, Emilia Klucznyk, Orla Rabey, Giselle Fuller, Henrietta Ross, Charlotte Salisbury and Maisie Webster, and disciplined fencing demonstrations by Jessica Salisbury, George Reynolds, Marina Haynes, Harriet Huxtable, Ella Huxtable, Raffaella Bruschini. He then moved into The Green Room and enjoyed listening to Carmen Fantasy by Bizet played beautifully by Amelia Bridel, Molly Simpson, Lucy Martin, Sabrina Kaines, Harriet St. Pier and Samantha Paines, all of whom are current Duke of Edinburgh's Award participants using their music as the skills section of the award.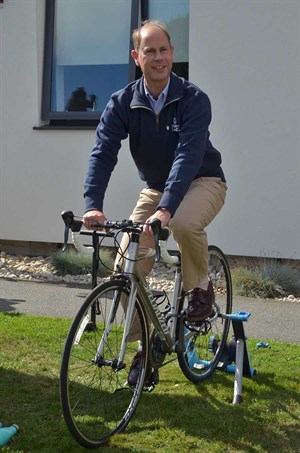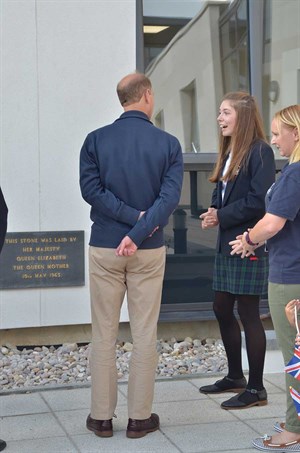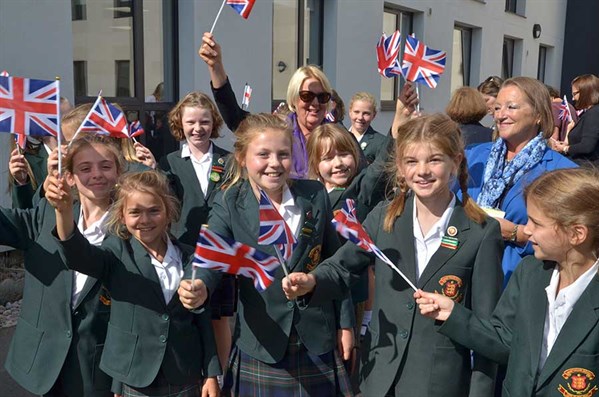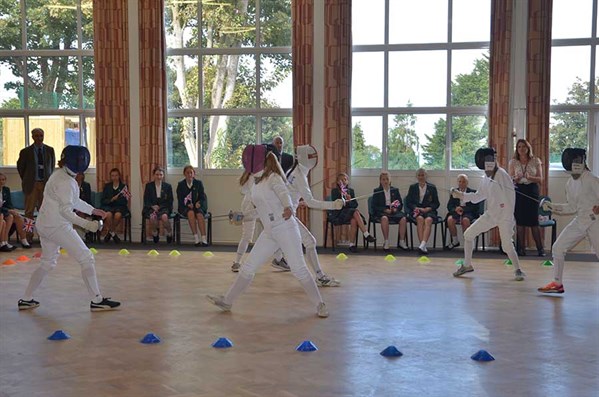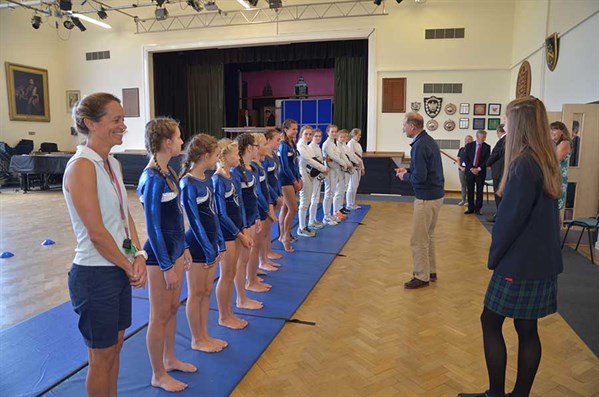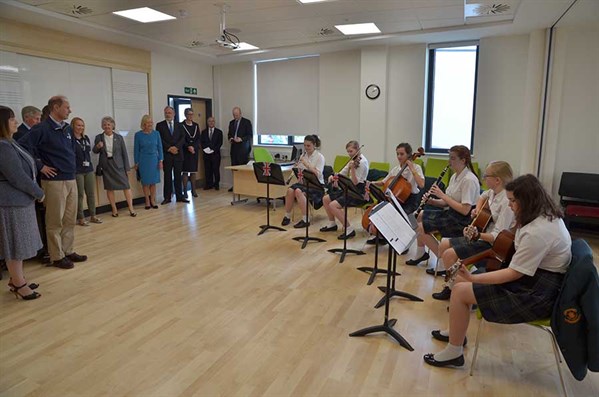 Everyone really enjoyed spending time with The Earl of Wessex, who was friendly, relaxed and impressed with his openness and genuine interest, encouraging the younger and older pupils and students to gather around and speak with him.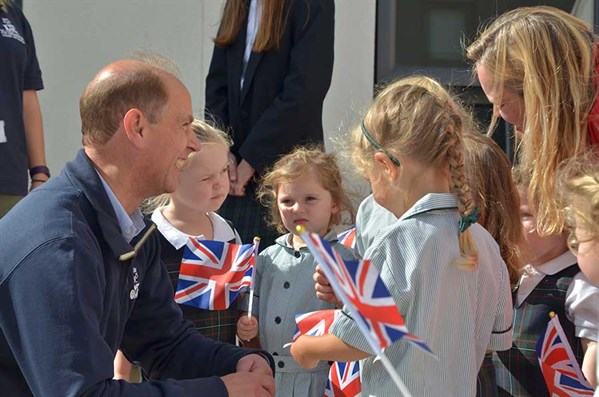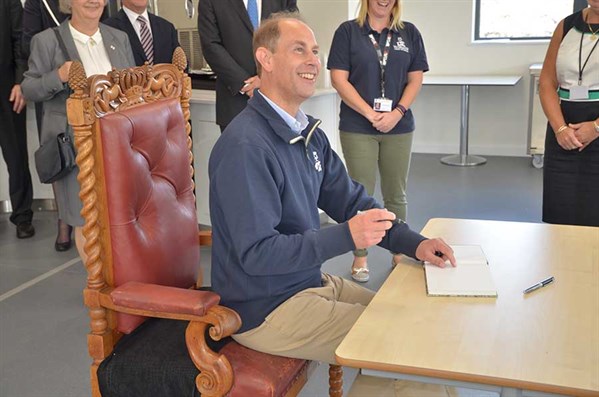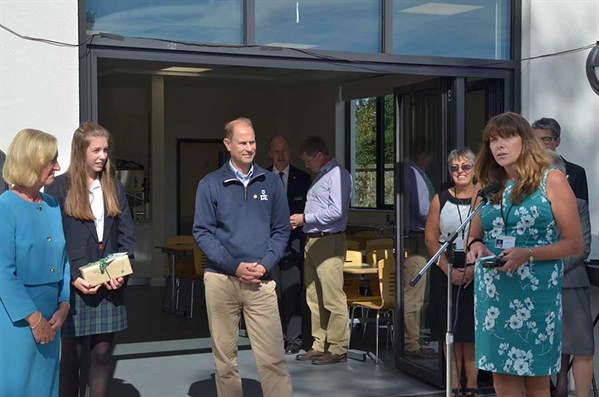 After signing a Visitor's Book to commemorate his visit, Mrs Ashley Clancy (Principal) addressed the College, Governors and invited members of the fund raising committee:
"Your Royal Highness, on behalf of our entire College community, may I welcome you to The Ladies' College.
We are grateful that you have given us so much of your time today, on what is a busy itinerary.
The Duke of Edinburgh's Award scheme is a key part of our provision for the girls and, although they already have plenty of character, it is through this award that their grit, resilience, determination, sense of service and sense of fun shine through...Lower Five, remember the sense of fun bit when you do your expedition training this weekend!
It is 53 years since Queen Elizabeth, The Queen Mother visited us to lay the foundation stone of our current senior school. There is a certain symmetry that you will open our new wing, (The Wessex Wing), today and that Mrs Kate Richards will have been at both events, in 1963 as a student and today as Chair of Governors.
We love our new building and it certainly improves our infrastructure. Yet it also symbolises for us a very clear commitment to the importance we give to providing the very best education that we can to the girls in Guernsey and most particularly to our fantastic girls who are here today.
Your grandmother, Queen Elizabeth, The Queen Mother said when she visited,
"The modern woman needs to have the highest education available to her if she is to take her place in the modern world".
We think that says it all!
Thank you once again for visiting us. You are always welcome.
Mrs Kate Richards, our Chair of Governors, will now invite you to unveil a plaque in recognition of your visit to celebrate the Diamond Anniversary of the Duke of Edinburgh's Award and to open our new building".
Before unveiling the plaque, Prince Edward had some fun with his audience and asked everyone to release all of their pent up excitement about the unveiling, saying he appreciated that we had been waiting for 53 years for this moment!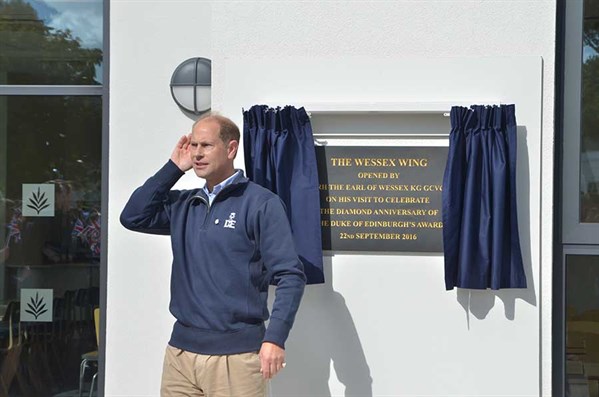 After unveiling the plaque, a Ladies' College engraved glass was presented by Mrs Kate Richards to His Royal Highness, as a small momento of his visit to The Ladies' College.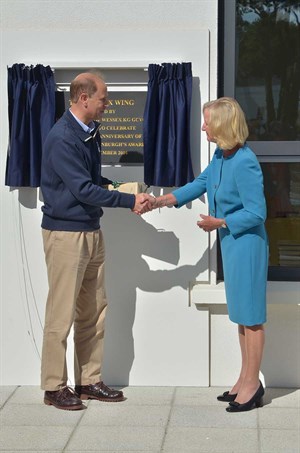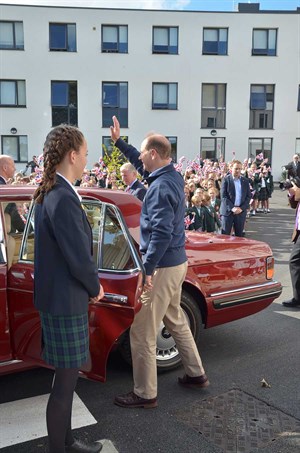 Union Jack and Guernsey flags were then waved as The Earl of Wessex left College and normality returned and lessons resumed.....but not without some fun and reflections of what a lovely whole College event we had all just been part of!